I receive invitations to review restaurants almost every day. However, the mail from Oyalo Pizza caught my attention because it wasn't a typical blogger table invitation. Instead, Oyalo wanted me to have an authentic customer experience. They wanted me to drop by any of their outlets, unannounced, at a time of my choosing and experience Oyalo Pizza. Restaurants in the city are seldom confident enough to invite bloggers to drop by unannounced, and right off the bat, this suggested that Oyalo really believes in its product.
Disclaimer: This is a sponsored feature by Oyalo Pizza
Oyalo Pizza is a new name in Hyderabad, but this Chennai based chain is ubiquitous in Tamil Nadu, with a presence in over thirty cities and towns in the state. I visited the Nallakunta outlet of Oyalo Pizza. It's a small store with a couple of tables on the foyer. Oyalo's offerings are pure vegetarian and easy on your pocket. The pizzas come in three sizes – Personal, Medium, and Large. The smallest size costs you just Rs. 80, while the large pizza that can easily be shared by three people costs Rs. 260. Oyalo's signature flavours include fiery Celery Schezuan Paneer, desi style Tandoori Paneer, and fusion creations such as Creamy Macroni and Thai Veggie Magic. I opted for a Medium pizza combo of Cheesy Chilli Paneer and Cheesy Garlic Strips, which is priced at only Rs. 225. Whether you're ordering home or dining-in, the pizzas and breads are served in neat Oyalo branded cardboard boxes. Oyalo's pizzas come in preset flavour combinations and you can't mix and match toppings.
Hyderabad (and in fact most of India) loves thin-crust pizzas, and that's what Oyalo offers. The base is thin and crisp but substantial enough to not feel like a wafer. Oyalo uses its own cheese blend that strikes an interesting balance. It's stringy, but not as much as mozzarella. It isn't as sharp as parmesan nor as salty as processed cheese. It actually works quite well with the simple vegetarian toppings and doesn't overpower them. The Paneer used was also excellent. The quality of the dairy isn't surprising since Oyalo's parent company Hatsun Agro is the largest private-sector dairy in India with brands such as Ibaco and Arun Icecreams under its wings.
Besides Pizza, Oyalo also offers a small selection of Pasta and flavoured Milk beverages by Hatsun. Dessert options include Lava cake in 3 flavours – Chocolate, Espresso, and Banana Caramel. In-depth nutritional info about every dish is available, including calorie count and macro composition as well as micronutrients. A slice of the Cheesy Chilli Paneer Pizza that I ordered measured in at 80 kCal. If you're a calorie counter and would like to monitor what you're eating even on your cheat day, check out this chart.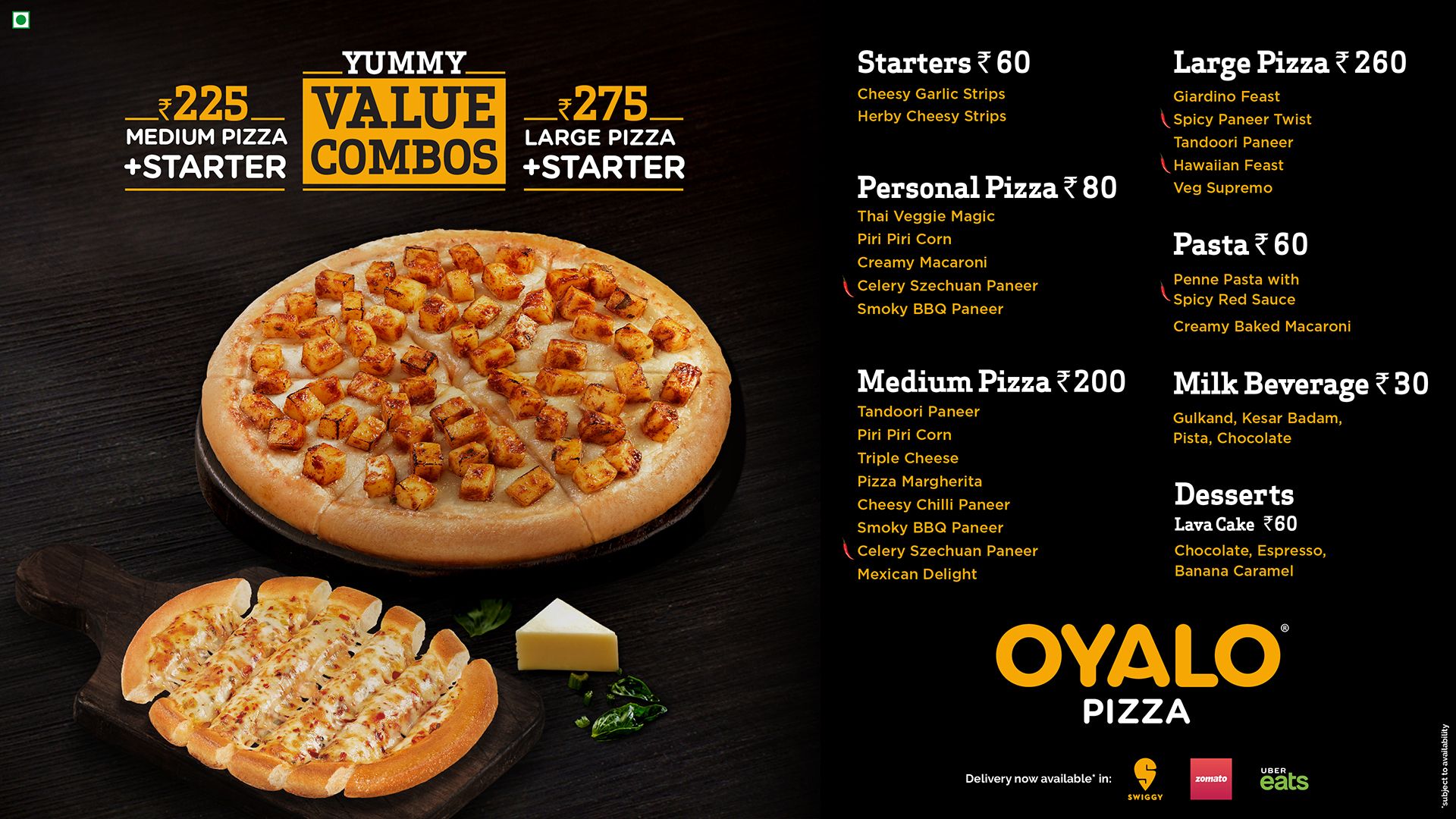 Oyalo currently has four outlets in Hyderabad, clustered around the older parts of the city, such as Nallankunta, Dilsukhnagar, Alwal, and Vanasthalipuram. You can find the Oyalo Store locator here.