The name TinMen is presumably a play on the Hindi word 'Dabbawalla' – the world famous lunch box delivery network of Mumbai, because this is certainly not a service without heart. TinMen is a Hyderabad based local, mobile, food delivery start-up. However, much like the dabbawallahs of Mumbai, it only delivers meals to workplaces. While a handful of organisations are known to serve delicious food, based on the anecdotes I have heard from friends, most cafeterias leave a lot to be desired. TinMen promises to liberate you from the dull cafeteria food by delivering hot, delicious, and affordable meals directly to your office.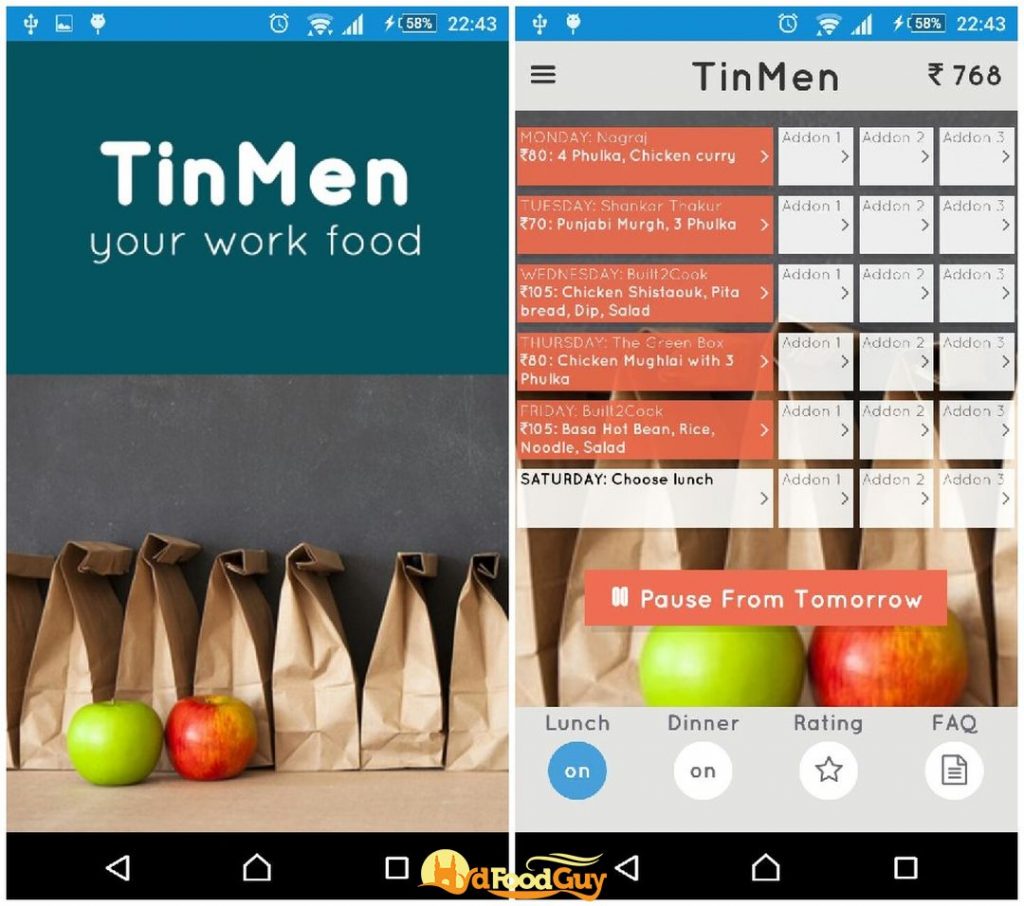 Orders on TinMen may be placed directly through the website or through the Android app. Meals on TinMen have to be pre-booked from a list of available options. Once you sign-up and login, you will be presented with a table of the days of week. You can book one meal for every day of the week along with up to three add-ons. The cut off time for ordering is midnight of previous day, after which cancellations or meal revisions aren't possible through the app. In case you take an unplanned leave from work, you can cancel the meal by calling TinMen before 9 AM on the same day. However, late cancellation is permitted only twice a month. All payments are made through the TinMen wallet, which you must keep funded. No minimum subscription is required.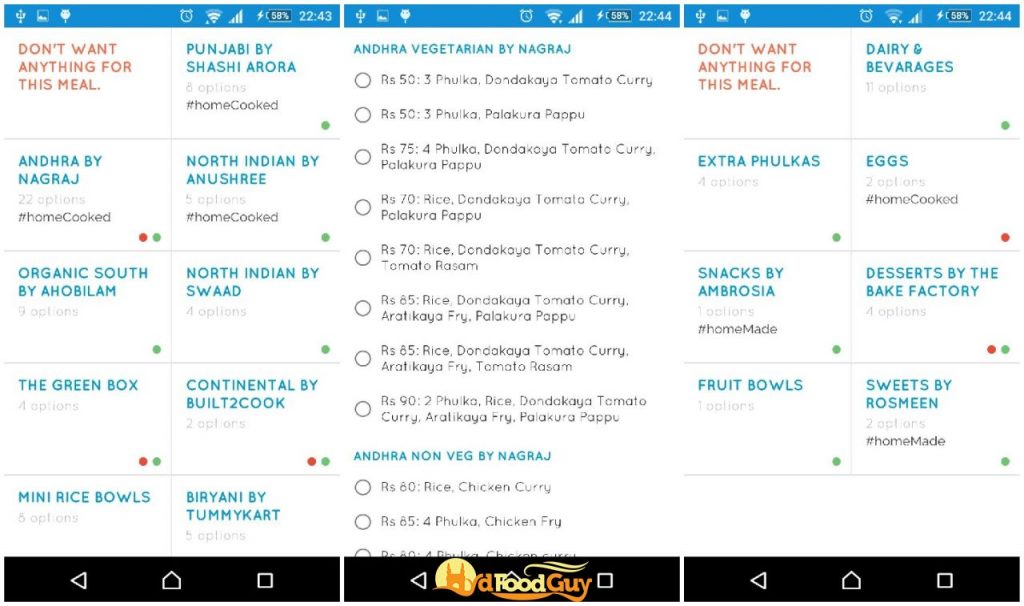 The food options on TinMen include home-cooked meals as well as meals sourced from its commercial partners. Commercial partners include the likes of Built2Cook, Rice Bowl, TummyKart, Swaad, Ahobilam, and The Green Box. The meals on TinMen are very reasonably priced and depending upon what you order will cost you between Rs. 50 and Rs. 120 (all prices shown on the app are inclusive of taxes and delivery charge). I started using TinMen in late November and extensively ordered from the Bengali Home cook Purnima Haldar. The Bengali meals that I have ordered include Aloo Chicken Curry, Sorshe Rui (Fish in Mustard Gravy), Rui Kalia (Fish in Tomato and Onion Gravy), and Chicken Kosha. The quality of the meals have almost always been good, and never bad. I really enjoyed having "ghar ke khana" delivered to my office every day. I also tried a few of the other options including Aloo Masala Paratha, Punjabi Murgh, and Chicken Kaalimirch from the North Indian or the Punjabi section, Mutton Vindaloo from the Goan section, and Achari Chicken and Red Chicken from Fusion Foods. Baring the Mutton Vindaloo (which is expected to be spicy) every other dish that I ordered was cooked with lower quantities of oil and spices than one would find in most eateries in the city.
The lunch is delivered in professional looking brown paper bags, and the food is packed quite neatly. However, the sealed aluminium bags used for Phulkas can't be opened without a rather ungainly exercise of your canines. You dont have any control over the delivery time. TinMen promsies to deliver the lunches every day between 12:45 PM and 1:15 PM. One of the issues I faced was that the delivery person kept on changing, so I had to provide instructions over the phone almost on a daily basis. The quantity of every meal was just right for me. Unlike most other thalis which have insane quantities of food, a TinMen meal is actually meant to serve just one! If you have a large appetite, then you have the option of using Add-ons to order extra phulkas. The Add-ons option also allows you to add salads, fruits, desserts, and drinks to your meal.
The ordering process is pretty straight forward and simple, and once you setup your meal plan you don't really need to bother yourself with the app as long as you don't want to change your meals. The only difficulty I had was in judging whether a dish will be a semi-dry preparation or with a lot of gravy. The Red Chicken didn't have anywhere near enough gravy to finish up three Rotis, so being a little apprehensive I ordered an Omlette as an add-on with Sorshe Rui, but the Sorshe Rui actually had a lot of gravy. Photos of the meal or at least a bit of a description will be helpful. There's also no way to directly rate a meal. One of the meals was a little high on salt, but without a rating option I didn't really have a way to provide feedback. Email and phone take too much of effort for a customer to use on a regular basis. However, the likes of Uber and Zomato have conditioned us to type in quick feedback directly from the app. That being said, the TinMen Twitter handle is quite responsive and helpful.
[Update (3/2/16): Tinmen app now allows users to submit rating and feedback.]
TinMen is currently delivering over 300 lunches per day to around 100 offices in Madhapur, Gachibowli, Hitec City, and Kondapur area, and plans to launch breakfast in the coming days. Expansion to Banjara Hills and Jubilee Hills is also on the cards. TinMen is one of my favourite food delivery start-ups right now, and I am really rooting for this little guy. It offers affordable, healthy, delicious meals straight to your office. Now, if only someone would also start offering affordable, healthy dinner subscriptions (similar to LivMore in Delhi).