It was quite a surprise when Sensodyne India reached out to me to participate in a food walk. At first glance, food walk and toothpaste don't exactly seem to align. But the concept presented by Sensodyne was intriguing. They wanted to highlight the issue of Dentin Hypersensitivity, known in common parlance as tooth sensitivity. Several long-time Sensodyne users were invited to participate along with select food bloggers. The food walk would be held in different corners of India, but the motto was the same. Helping sufferers of tooth sensitivity relish their favourite dishes and #EnjoyLikeYouShould!
Disclaimer: This blog post is sponsored by Sensodyne in association with So Hyderabad
The Gallery Cafe
The starting point for the food walk was The Gallery Cafe. This lively café is an extension of the renowned Kalakriti Art Gallery, and was conceptualised by the young entrepreneur Supriya Lahoti. The café is not just a place to hang out and chit-chat. It's also a gallery that showcases creations by famous local artists. Everything, including the table and chair you sit on, is available for purchase. The café encourages its patrons to get their creative juices flowing. You're free to pick up pencils and crayons and doodle away to glory. Your masterpieces will get a spot right amidst the creations by celebrity artists. We began our food walk with a delicious cup of Hot Chocolate. Served in a cutesy cup that joyously proclaimed 'Have a cup of cheer!', this morning dose of cocoa provided us the morning invigoration that we needed.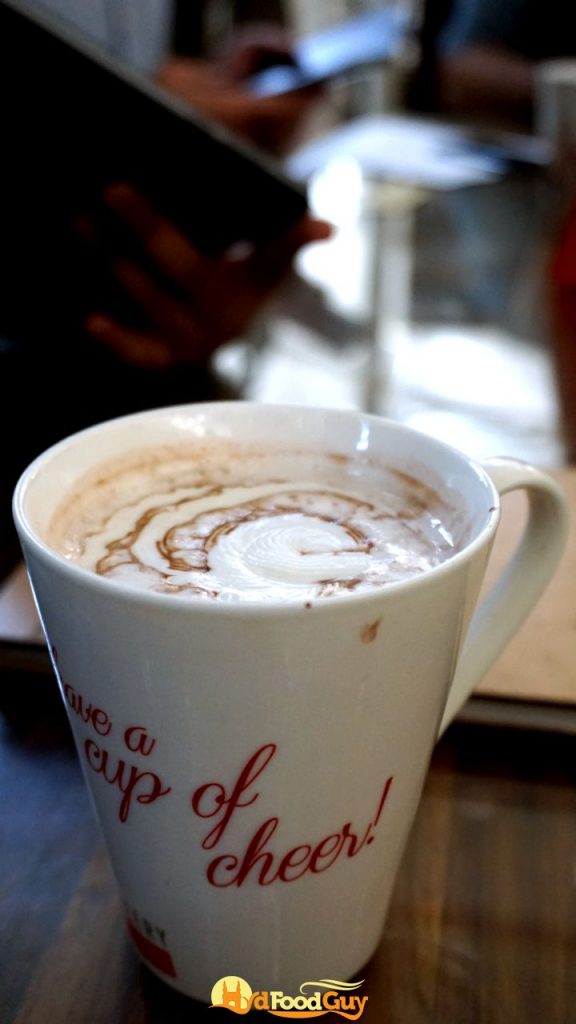 Hot beverages are known to be the nemesis of the sufferers of tooth sensitivity, but all around me I saw happy faces slurping away at their cups of Hot Chocolate without a second thought.
Eclaire
Eclaire is a beautifully decorated boutique patisserie that is notable not just for the amazing food and drinks it dishes out, but also its raison d'etre. Ninety percent of the profit from the patisserie goes towards funding the education and healthcare of children between the ages of 14 and 18. Eclaire also works to help orphans gain critical skills required to be independent. In fact, the current core team at the bakery includes eight orphan/slum kids who have been trained at the patisserie.
I love the cheesecakes at Eclaire, however, today the agenda was different. I tried a Chicken Pot Pie accompanied by a beverage. Everyone around the table ordered different beverages including hot coffee and iced tea. I picked their Cafe Mocha. The Pot Pie was a tad too dry for my liking, but the coffee was on the mark.
Exotica
The final stop of our food journey was Exotica, an iconic restaurant in Hyderabad. This rooftop restaurant provides a gorgeous view of the city and is a popular destination for the love-birds. The dish we tried here was their Kulfi-Faluda. There are few things in life that are as satisfying as biting into a cold stick of creamy kulfi. However, this delight can turn into a nightmare for the sufferers of tooth sensitivity. But, once again, everyone on the table conquered this challenge with ease!
The Sensodyne India food-walk was an interesting experience. Besides getting the opportunity to interact with many a new faces, it was delightful listening to their stories about winning the battle against tooth sensitivity. Check out the video of the walk below:
So Hyderabad is the official Instagram account for the Hyderabad Chapter of So City (http://www.so.city). Currently live for Delhi NCR and coming soon to your city! You can download the app on http://www.so.city/app