Oakleaf is the all-day diner housed inside Oakwood Residence, a premium serviced apartment with over 150 apartments. Oakwood attracts guests,mostly professionals, from all over the world. Many of these guests stay for extended periods. Hence, Oakleaf's menu has been designed to offer a little bit of everything to satisfy everyone's palate.
I was invited to a blogger's table at the Oakleaf, and had an opportunity to sample some of the signature dishes from menu that had a mix of Indian, Oriental, and Continental. First out of the kitchen was Prawn Tempura. A simple and delicious preparation that was executed with finesse. The batter was light and crispy, and a delight to bite into. Next up were a few samplers from the Indian kitchen – Chowk ki Tikki, Bharwan Mushroom ke Kebab, Murgh Tikka, and Atishi Paneer Tikka. The Paneer Tikka was a tad salty, but otherwise enjoyable. The Murgh Tikka was done in Hyderabadi style and tandoored to perfection. The Mushroom Kebab came with a delicious cheesy crust that made it look a bit like a Reshmi Kebab. The light, cheesy coating paired really well with the Indian spices. We got our first taste of Oriental cooking in the form of a Wok Tossed Chilly Fish – pan-fried fish with a thin, crispy coating that was tossed with ginger, red chilli, and scallions. Once again, the execution of the dish left little room for complaint.
From the Soups and Salads section, we were served Mushroom Cappuccino, Tom Yum Soup, and Insalata Caprese. Tom Yum Soup is one of favourite soups and it's a hard soup to go wrong with. The kaffir lime, galangal, and lemongrass really adds a wonderful dose of freshness to this soup. While, this wasn't the most interesting Tom Yum in the city, it was still very enjoyable. The Mushroom Cappuccino was a thick mushroom broth with a creamy froth that was served like a regular cup of coffee. The presentation was interesting, and the thick, creamy mushroom with a hint of garlic flavour was delectable. Insalata Caprese is a simple salad made by topping up slices of tomato with Bocconcini (Mozzarella Cheese). This is a refreshing and light salad whose taste depends entirely on the quality of the Mozzarella and the freshness of the tomato. Oakleaf delivered on both counts.
For the main course, we were served Lasagna Exotica, Pan Fried Pomfret, and Fillet Mignon from the Western kitchen. The Lasagna, which had perfectly constructed layers of vegetables and cheese (Mozzarella and Parmesan), was exceptionally well executed. This was my favourite vegetarian dish of the day. But, the real stunner was the Pomfret. The Pomfret had a very light cook to it and had the intense aroma and flavour that will thrill sea food lovers. The fish was served with shrimps and spicy bacon bits. It's very difficult to not like anything with bacon, and the same was true here. In fact, I wish there was a bit more bacon in the dish. The Fillet Mignon was a tad over cooked(medium instead of medium-rare), but quite edible.
From the Oriental Kitchen, we were served Char Kway Teow and Thai Yellow Curry. Char Kway Teow is a popular noodles dish in Malaysia thats prepared by frying flat noodles over high heat in soya sauce. To my palate this dish seemed rather dull, and could have been helped by a bit more generous usage of sauce or additional ingredients.
We finished up the main course with some dishes closer to home- Alleppey Fish Curry, Corn Capsicum Kaju, and Murgh Tikka Makkhan Methi. The Murgh Tikka was an explosion of flavours – rich, creamy, sweet, and tangy.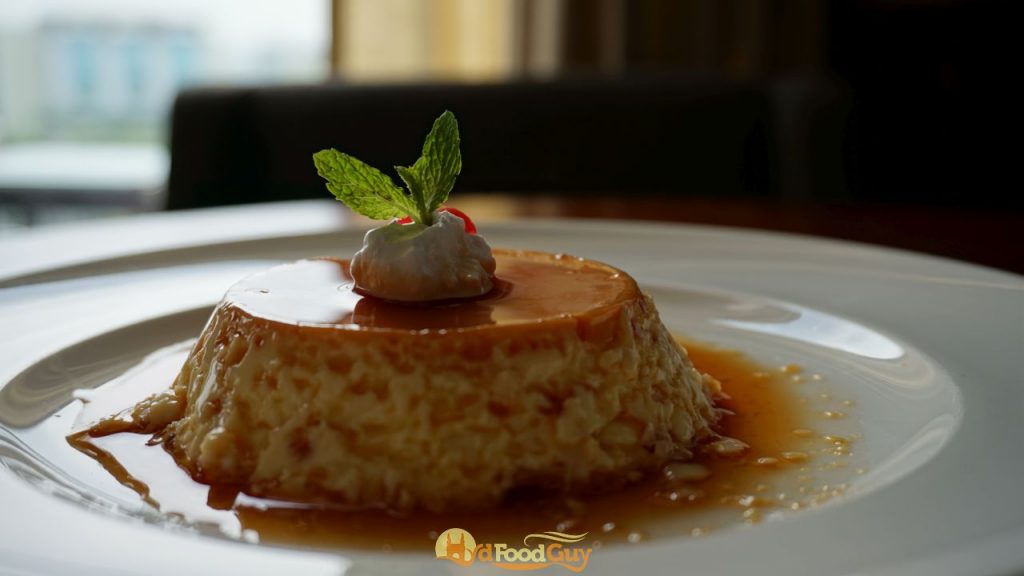 We finished off our meal with Creme Caramel – the signature dessert of Oakleaf. The pudding was delectable, but a slightly thicker caramel sauce would have made it even better.
Oakleaf is priced quite competitively for a property that's housed inside a star hotel. The menu is diverse and packs in quite a few exquisite dishes. Almost everything that was served to us was yummy, and some like the Pomfret and the Lasagne were exceptional. The Oakleaf is a welcome addition to the rather select group of authentically multi-cuisine restaurants.