Hyderabad's Old City is a food lover's paradise. It's teeming with humble, unassuming road-side shops and run-down restaurants selling delicious kebabs, biscuits, biryanis, and more at bargain prices. Whether you are looking for a hearty breakfast, a quick evening snack, or a full meal, Old city has got you covered. Here are some of the must-visit spots when you are in that part of the town. The places are listed in the order in which they would fall if you start walking from Shah Ghouse, Shalibanda towards Madina.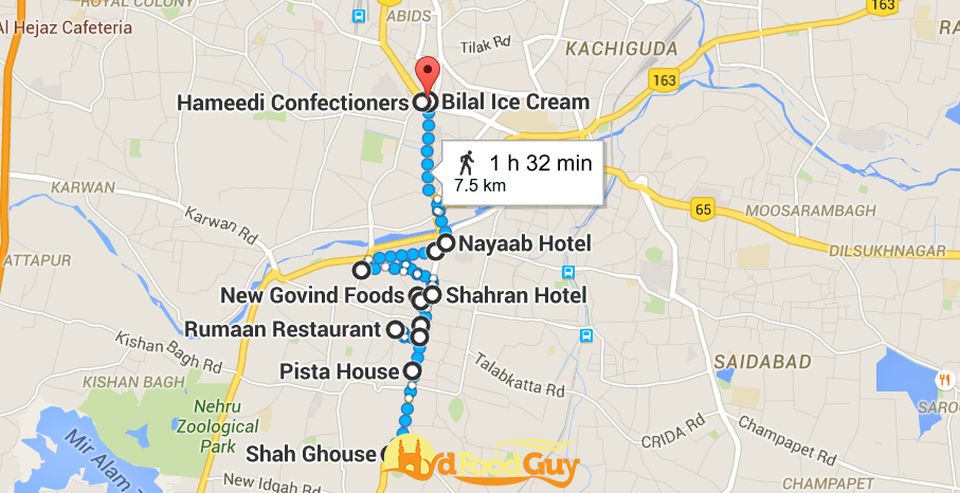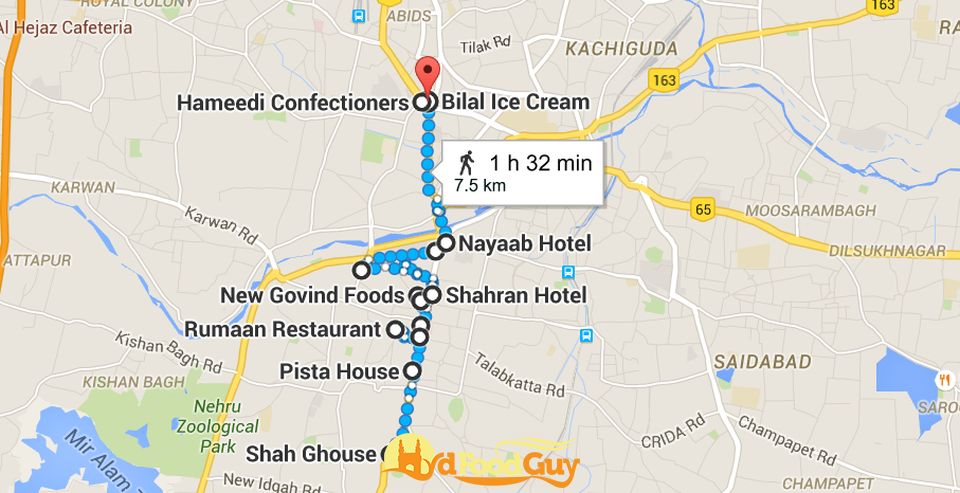 Shah Ghouse
Shah Ghouse has three outlets in the city with the one at Shalibanda being the oldest (the other outlets are at Tolichowki and Raidurgam). This Irani Cafe has something to offer you whether you drop by for breakfast or lunch or dinner. If you arrive in the morning, you can relish a plate of Khichdi with Keema and Khatta, or a couple of pieces of Char-Koni Naan with Paaya and Gurda-Kaleji. Their Biryani is consistently ranked as one of the best in the city, as is their Haleem.
When to go: Breakfast, Lunch, Dinner
What to order: Khichdi with Keema Khatta and Naan with Nihari and Goat Entrails for Breakfast. Biryani for lunch and dinner. Haleem (only during Ramzaan)
Pista House
I'd recommend visiting Pista House only during the month of Ramzan. Pista House is the most well-known manufacturer of Haleem, and is the de facto face of Hyderabadi Haleem thanks to its excellent distribution. Pista House haleem is usually not the best, but it's stil definitely worth a try. Don't fall for the temporary stalls across the city that selling canned Haleem. The freshly prepared Haleem sold at its Moghalpura, Shalibanda and Tolichowki outlets are significantly better.
When to go: Evening to night (Only during Ramzan)
What to order: Mutton Haleem, Qubani ka Meetha
Akbar Fast Food Corner
Chicken 65 is a dish that you will find in every nook and cranny of Hyderabad. Everyone has his own theory on how this dish got its name, and exactly how this dish should be prepared. One of my favourite renditions is by Akbar. Their Chicken 65 looks scarily red, has a hint of crispiness, and is appropriately spiced. However, what really makes this one of my favourites is the sweet and tangy chutney.
When to go: Evening (4:00 PM to 11:00 PM)
What to order: Chicken 65 and Warqi Paratha
Hotel Rumaan
Hotel Rumaan has two outlets – one near Chowmahallah Palace in old city and another in Towlichowki. Both outlets operate through the day – from serving traditional Hyderabadi breakfast in the morning to offering Irani Chai in the afternoon and evenings to serving Biryani through the night. I'd recommend visiting this place to try out their Beef Biryani and Tala Hua Gosht (Beef). During the month of Ramzan, they also serve beef haleem.
When to go: Evening or Night (7:00 PM to midnight)
What to Order: Irani Chai, Beef Biryani, Tala Hua Gosht (Note: Mutton dishes on the menu are actually beef)
Nimrah Bakery
Situated right next to Charminar, this bakery is legendary for its Chai-Biscuit. The Irani Chai at Nimrah can be a tad too sweet at times, but is never too shabby. If it's not too crowded, Nimrah offers a good spot to click your picture with the Charminar in the background. The freshly baked biscuits are always brilliant and are a must order. The best of the lot is the Osmania biscuit. This biscuit got its name from the last Nizam of Hyderabad – Mir Osman Ali Khan, who was apparently a huge fan of it. The crispy biscuits melt in your mouth the moment you bite into them. The buttery-sweet taste dominates at first, but what makes the Osmania exceptional is the hint of saltiness at the end. Some of the other biscuits that you should try at Nimrah include Tie biscuit (shaped like bow-ties, these biscuits taste like Veg Puffs without any stuffing), Chand biscuit (crescent-moon shaped biscuits), and Khopra biscuit (large coconut-biscuits).
When to go: All Day
What to order: Irani Chai, Osmania Biscuits
Agra Sweets
Although Matwale Doodh Ghaar probably the more popular option for Lassi, I keep going to Agra Sweets for their super-thick Kesar Pista Lassi. If you are a fan of North Indian breakfast, then Agra Sweets also has decent Puri-Sabzi, Samosa, and Jalebi to offer you.
When to go: Breakfast or Evening
What to order: Kesar Pista Lassi
Govind Dosa
Even if you are not a big fan of dosa, Govind dosa is something that you must try. Hyderabad's bandi-style butter dosa preparation doesn't have any filling. The thin thin layer of batter is crispy fried in oodles of butter. As the batter is getting fried rava (semolina) is poured on it. This forms a soft inner layer of the otherwise papad-like dosa. On this, a podi (spicy power mixture) mixture and a slice of tomato are cooked. Check out the video below to see Govind in action. Govind's starts making Dosa at dawn and continue until ten or eleven o clock. He also has another outlet at Banjara Hills that is open through the day.
When to go: Morning (before 10:30 AM)
What to order: Govind Dosa, Tawa Idly, Butter Idly
Kebab-E-Jahangiri
This is literally a hole in the wall place. This small kebab joint occupies a small room in one of the gates just ahead of Charminar (when travellingfrom Nayapul). The must haves here are the Sheekh Kebab (beef) and Tala Hua Gosht (beef) with Warqi Paratha. Warqi Paratha is a multi-layered, soft, flaky Indian bread that delicious and extremely filling. A plate of Sheekh with a couple of Parathas is enough to be a full meal and will cost less than a hundred bucks.
When to go: Evening (5:00 PM to 9:00 PM)
What to order: Sheekh Kebab and Tala Hua Gosht
Hotel Shahran
I only go to Shahran for one thing – it's delicious mutton sheekh kebab that's served with a briliant peanut chutney. If you visit in the early part of the evening, you'll also get Lukhmi – a Hyderabadi variant of Samosa that's crispier – those edges of samosa that every ones loves, well there's more of it due to the square shape.
When to go: Evening (4:00 PM to 11:00 PM)
What to order: Sheekh Kebab
Royal Fish
Bang opposite Shahran is a small road-side stall that dishes out delicious fried fish and a uniqe Fish Tikki preparation that are worth checking out. Be warned though, everything here is quite fishy. So, if you dont like the fishy smell, you might want to stay away.
When to go: Evening (5:00 PM to midnight)
What to order: Fish Fry and Fish Cakes (Fish Tikki)
Mashallah Ghawa
Ghawa is a popular Arabic drink prepared by brewing coffee in rose water with saffron and cardamom. It's a relaxing drink that's often consumed after a meal. There are a few places in Hyderabad that serve a variant of Arabic Ghawa with milk added to it. Mashallah is one of the most popular ones. I'm not a big fan of Ghawa, but it's worth checking out if you want to experience something a tad different.
When to go: Evening (7 PM to 9 PM)
What to order: Ghawa
Hotel Shadaab
Shadab is is a legendary establishment that's in its own league. Their Mutton Biryani is among the best in the city. But, it's not just the Biryani. Try their Boti Kebab, Sheekh Kebab, and Mutton gravies. If you visit them on a Friday, you will also be able to experience Bagara Khana (long grained, aromatic rice) with Dalcha and Shikhampur. Finish off your meal with Qubani ka Meetha, a traditional Hyderabadi dessert made from apricots.
When to go: Breakfast, Lunch, Dinner
What to order: Paaya and Naam for Breakfast. Mutton Biryani for Lunch/Dinner.
Hotel Nayaab
Nayaab operates through the day, but I'd recommend visiting during the breakfast. Much like the other Irani cafes, it offers Naan with Nihari, Gurda, and Kaleeji for breakfast. However, the standout dish here is the Bheja Fry. Spicy, soft, and absolutely yummylicious. Wash down the spicy and heavy breakfast with a cup of their unique Kesar Tea. Nayaab also serves Hyderabadi style Dahi Vada, Samosa, and Lukhmi through the afternoon and evening. Nayaab was the first restaurant to make Haleem commercially available and is still a popular destination among Haleem lovers.
When to go: Breakfast (6:00 AM to 11:00 AM)
What to order: Nihari, Bheja Fry, Kesar Tea
Hameedi
Hameedi traces its roots to a small sweet shop started by a Turkish boy – Mohammed Hussain. Among his specialties was a dish called Jauzi Halwa which had nutmeg as one of its major ingredients. The story goes that the last Nizam loved this sweet so much that he wanted the shop to be named after one of his sons. That's how the humble sweetshop became Hameedi Confectioners. The current shop is located opposite to the Mozan Jahi market and still dishes out outstanding halwas including the famous Jauzi ka Halwa and Badam (Almond) ka Halwa. Also not to be missed are their Ladoos – sinful, ghee laden treats loaded with dry fruits. If you are lucky you will also get traidtional Hyderabadi sweets like Badaam ki Jaali and Ashrafi.
When to go: Anytime (9:30 AM to 10:30 PM)
What to order: Jauzi Halwa, Badam Halwa, Laddoo
Bilal
Finish off your Old City food walk by heading to Bilal Ice Creams. Sit inside the grandoise clock tower of the eighty year old Mozzam Jahi Market and enjoy a scoop of seasonal specialties like Mango, Chikoo and Sitaphal or all time favourites like Paan. If you want more, you can also try the old school Sunades. Next to Bilal is Famous icecream – which is over fifty years old. I personally prefer the taste and ambiance of Bilal, but if you have the time do check out Famous too. The other famous ice cream joint is Masqati. Masqati does hold an edge over Bilal for non-fruity flavours (their vanilla is pretty good), but I keep coming back to Mozam Jahi for the ambiance.
When to go: Anytime (11:00 AM to 11:00 PM)
What to order: Seasona fruit ice creams